If you've been to Hill Country Galleria lately, you've probably noticed a lot of changes. Well, exciting things are happening behind those red construction fences. That's because the mall is undergoing a $16 million dollar renovation that will surely put a smile on Lake Travis residents and visitors. Keep reading for a sneak peak.
In honor of these exciting changes, we're offering one lucky Lake Travis-ite the chance to win a $150 gift card from Hill Country Galleria that can be used at ANY of the shops or restaurants at the mall! What a great way to say goodbye to summer and hello to back-to-school season.
So what's buzzing at Hill Country Galleria? Let's find out …
A 20,000 square foot H&M store is under construction near Dillard's. This is the second Austin-area store for H&M.The store is expected to open at the end of the month with a Grand Opening celebration featuring special promotions.
Remember, all stores are open during construction, so don't let the red fences deter you from your favorite spots.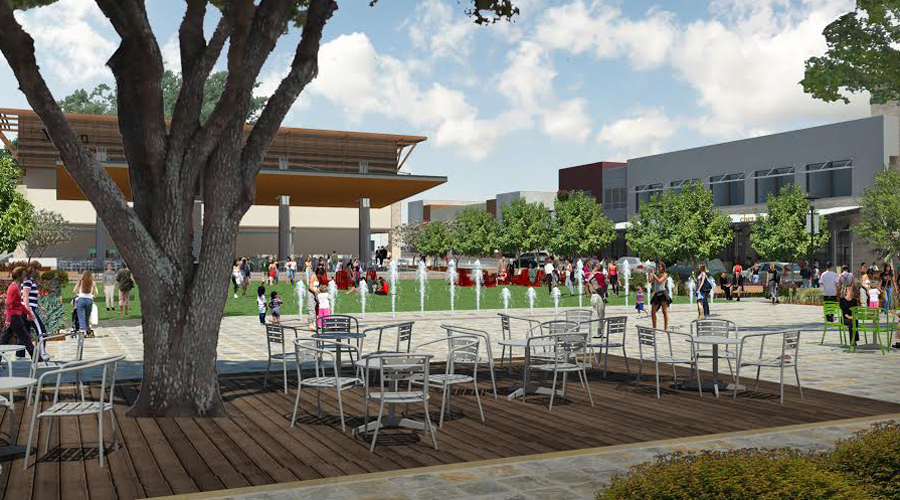 The outdoor amphitheater is currently under construction too. The end result will feature a grassy lawn with shade structures and trees, as well as brand new splash pads with seating for parents.
The existing land is being dug out to level the ground and better accommodate shoppers and signature events like the Saturday Night Concert Series and holiday celebrations. (Above rendering provided by Hill Country Galleria)
Movies at Cinemark Hill Country Galleria  just got cozy now that they've finished a complete renovation that includes luxury loungers in all of their theaters. Loungers include electric-powered recliners, cup holders and footrests. And you can pre-select your seats!
The Hill Country Galleria also offers valet parking during peak times Friday through Sunday. You can enter HCG via Bee Cave Parkway for easy access to the valet station located by Café Blue.
What else is new?
Frost Gelato opened their doors on Friday, August 5th
Frost Bank opened their doors on Monday, July 18th
Restore Cryotherapy opened their doors on Friday, June 10th
RIDE Indoor Cycling opened their doors on Saturday, April 30th
How to enter the Lake Travis Lifestyle August giveaway
We've been doing monthly giveaways for a while, so you might already know the drill.
If you're new to our giveaways, here's what you need to know and do to be eligible to win the Lake Travis Lifestyle giveaway for August 2016:
Subscribe to our free updates. Current Lake Travis Lifestyle subscribers are already eligible — you don't need to sign up again.
You must be signed up before 8am on Monday, August 15, 2016 to receive the "how to win" email that will go out to all the Lake Travis Lifestyle email subscribers. Your reply to the "how to win" email is your entry for the August 2016 giveaway and a chance to win a $150 gift card from Hill Country Galleria.
The deadline to reply to the "how to win" email is 7pm (CT – Central Time) on Monday, August 15, 2016.
We'll randomly pick the winner using a third party service from the replies we receive and notify the winner via email.
Prizes can not be shipped. The winner is responsible for picking up your prize.
And that's it from us! We're super sensitive about our email list and you'll never receive any spam. In other words, we never share your information with third parties.
By signing up you just receive free updates about the best of what's happening in the Lake Travis area — we love this place as much as you do.
Live Local in Lake Travis!