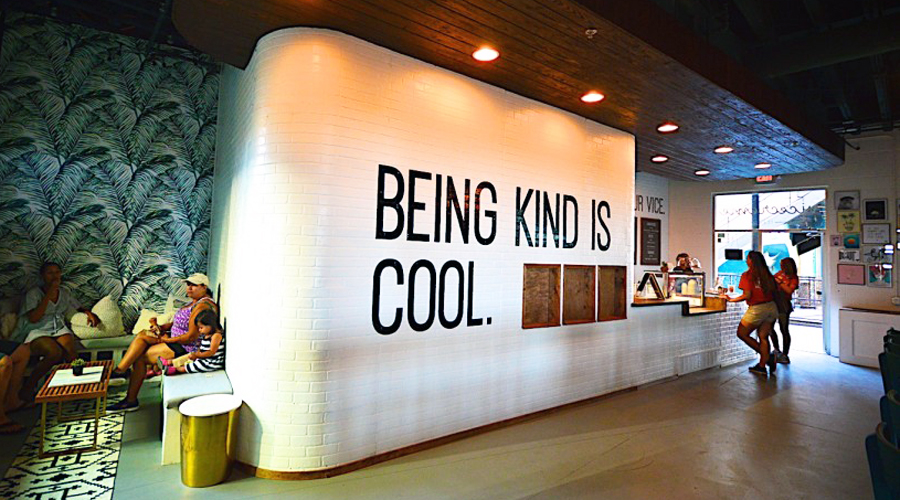 As we head into the early parts of another Texas summer, there really isn't a better time to get out of the house and drive to the nearest ice cream shop. After jetting from your car into the store, enjoy a satisfying cooling off for your taste buds.
It's even better when your dessert does some good and gives back to the community.
Welcome to Vicecreme, the socially conscious vegan ice cream joint that recently opened at The Oasis on Lake Travis.
Brother and sister duo Mike Limongelli and Gina Galvan worked together to make their dreams of launching a vegan soft serve ice cream shop in the Lake Travis area happen with a whole lot of elbow grease, a delicious line of sweet goods that keep customers coming back for seconds, and a greater purpose behind their business.
The goal behind selling vegan ice cream was simple; save the planet just by making gradual changes to your diet and lifestyle. This can include days like "Meatless Mondays", by cutting out dairy products, or by committing to a vegan lifestyle fully. Limongelli and Galvan hope to open more minds through their customers' stomachs, letting them taste the benefits of conscious living firsthand.
And the siblings have a lot to show for all of their hard work, including a minimalist interior with a cozy and dreamy nook for you to lounge upon as you enjoy your delicious frozen finds. In case you can't tell, I come for the ice cream and stay for the scenery.
Mike is proud as he shows off the final product and shared brainchild, telling me about the many causes the shop already supports, including proceeds from ice cream that go to charities like the Austin Parks Foundation, and through the sale of Sand Cloud towels and Pura Vida bracelets, which help fund over 100 different charities across the world.
"We're just two kids trying to make the world a better place through vegan ice cream."
Appropriately opening on Earth Day this year, Mike and Gina found an instant market of mouths willing to try their milk-free treats, from banana-based soft serve to coconut-based hard serve to banana splits piled high with all the fixings. Needless to say, on their opening they sold out their stock, giving them the proof that Lake Travis is hungry (and practically screaming) for more of the iced treat.
"What we were trying to do here is, if people go out and eat steak and seafood and stumble by the shop accidentally and eat our ice cream, that's cool," Mike tells me as he hands me a few samples of his favorite flavors of hard serve, as I daydream about the details of picking flavors offered at the shop.
The thought makes me want to reconsider my career choices for a few seconds. Then Mike hands me a spoonful of their in-house soft serve.
It's banana-based and reminiscent of an old-fashioned soft serve, just minus the milk and stomach-upsetting lactose. Their rotating selection of hard serve is made with coconut milk, which is perfect for building out a tower of a cone with your favorite flavors.
Even though their treats contain no milk, on my first trip I wasn't even aware that it was vegan ice cream and noticed no lack or difference in flavor at all. I scarfed it down before I made it around the neighboring shops, so I think that says something.
Vicecreme's ice cream offerings change daily, but you can expect to see tried-and-true favorites such as mint chip, java chip, and rockiest road, and more surprising flavors like snicker-doodle dough. Build an open-faced ice cream sandwich in your fave flavor, or keep it simple with a cup of hard serve.
So next time you're in the area, swing by and try a sample, and go ahead and shop around for a bit while you eat. You might find something to buy that gives back.
And because being kind is cool, and enjoying ice cream that cuts back on the consumption of resources used to make it while offering health benefits is pretty cool, too.
Vicecreme
6550 Comanche Trail #109
Austin, TX 78732