Where's your favorite spot to watch a Lake Travis sunset?
Ask anyone you know in the Lake Travis area and you'll likely hear a recurring answer. The Oasis — The Sunset Capital of Texas — owns that title with an awe-inspiring backdrop and sunsets over the main body of Lake Travis.
The restaurant is a Lake Travis favorite, serving locals and out-of-towners who want a lingering look at those famous Lake Travis waters. Over three decades has made The Oasis and its surrounding mini-town a veritable institution for the greater Austin area, bringing in crowds for lunch, dinner, drinks, and Lake Travis sunsets.
Create without reservation
This story goes back to 1979. The plan started with a concept. Houston entrepreneur and restaurateur Beau Theriot bought 500 acres of shoreline along Lake Travis for the purpose of building a restaurant.
Much of the initial work was done by Theriot, a self-described jack of all trades but master of none. And he used his passions for business, carpentry, and art to create his dream restaurant, one that would become a legend in many minds in Austin for years to come.
"Create without Reservation," was Theriot's motto, and by 1982 he renovated his ranch house on the property to serve food, opening as The Oasis Restaurant and Cantina Del Lago.
Piece by piece the building was remodeled and built out to serve more patrons on Lake Travis. By 2005 the restaurant was able to seat 2,800 people, making it the largest outdoor restaurant in Texas.
However, this story is not without tragedy. You may remember the June 1st, 2005 fire that took place at the restaurant after lightening struck the land in the surrounding property. Much of the building and decks were lost; the remaining part was fixed and reopened, serving their Tex-Mex fixings out of a truck until renovations were completed.
With that entrepreneurial spirit of his, Theriot began work on his new restaurant masterpiece, a four-story restaurant that would serve as a multi-purpose venue for events and concerts. Stores and shops would open around the growing property, making it a one-stop destination for people of all sorts and places.
The Sunset Capital of Texas
You know you're at The Oasis when you see those famous red, green and white umbrellas. It feels like a real oasis, especially when you ditch 620 traffic and head west to grab a cocktail and some grub 450-feet high atop the shores of Lake Travis.
It's a view you can enjoy any time of the day, especially at sunset. It's practically an event that is celebrated here every night, making every day seem like one big fun party on the lake.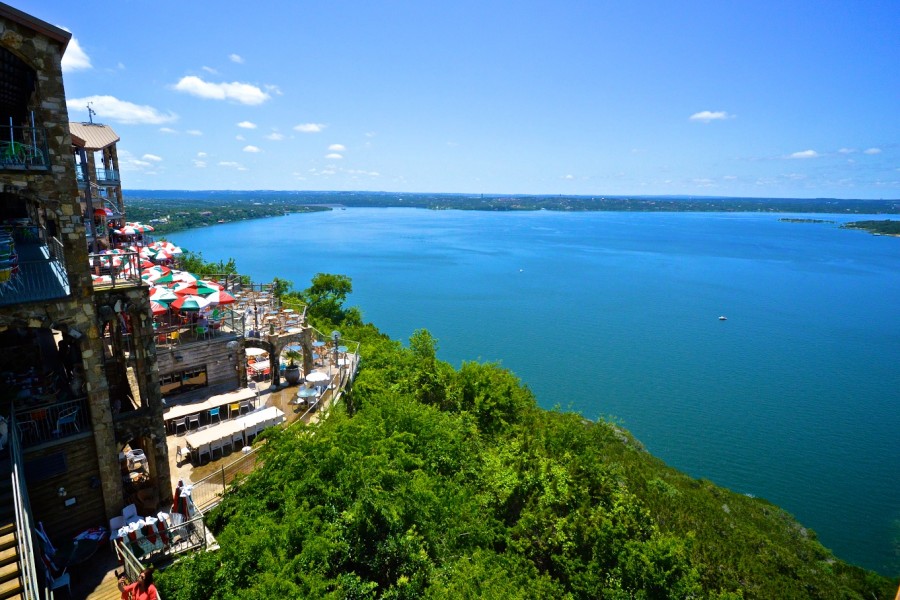 The other thing you'll notice right away is the fair amount of art decorating the property, which is interesting to explore when you're hunting for the perfect spot to take a selfie on the deck. The owner's passion for antique collecting has rolled over into his restaurant, which is why you might mistake The Oasis for an art gallery.
Whether you're loving the food, the art, or the views of Lake Travis, The Oasis is always a fun time. With over 30,000 square feet to explore, you're bound to see something new each time you visit … maybe it will be one of those famous Lake Travis sunsets.