Last week, partners, community leaders and friends of High 5 gathered at Antebellum Oaks to celebrate the groundbreaking ceremony for their new bowling entertainment facility that will be located at the north end of Oaks at Lakeway shopping center. Despite the clouds, everyone was all smiles with their colorful hard hats and golden shovels.
"We're all families — our partners, our investors, our supporters — so we're going to make this a place that we want our children to enjoy," says owner and proud father of three young kiddos, Scott Emley. "Our focus is world-class service at High 5 and running a business with a strong sense of community."
Scott and his wife Jenny explained the four-year process they've gone through to bring their vision of High 5 to fruition and how Lakeway is the perfect place to make their dream a reality.
According to Scott, as soon as he heard about plans for Oaks at Lakeway, he knew that was the perfect location. Scott commended the City of Lakeway and grinned, "the city was ready for this." And we all know, sometimes timing is everything. Scott introduced all of the investors and partners involved in this project, as well as community members who have worked hard to make High 5 happen.
Scott, who played football at UT (and was a First-Team Academic All-Big 12 in 2000), may have joked about his "3rd string linebacker" position, but he extended a heartfelt thanks to many of his former teammates who are now partnering with him on this project and have been with him throughout the journey.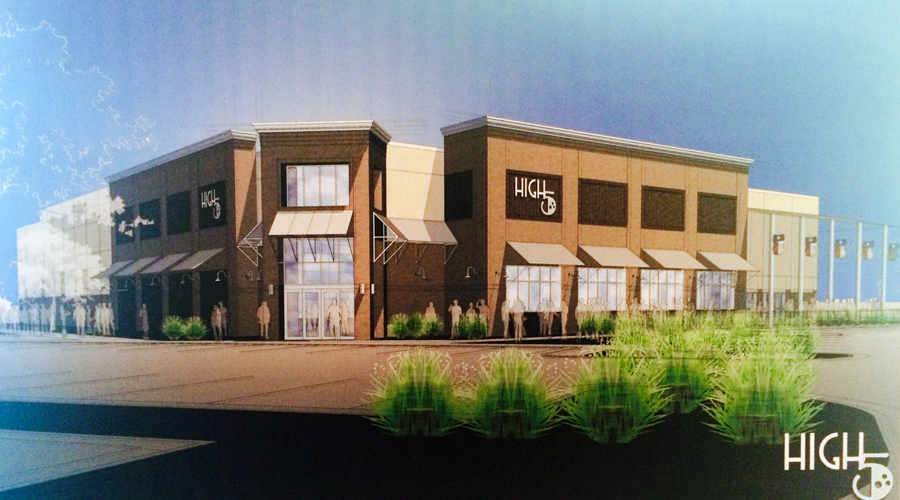 So what can you expect to find at High 5?
High 5 will be a two-story entertainment facility with 12 bowling lanes upstairs and 16 lanes downstairs. It will have a 2-story laser tag arena and a 4,000 square foot arcade with tons of games. They will have five party rooms that will be available for rental for birthdays, parties and corporate events. High 5 will also have a full service restaurant and two bars.
The upscale decor at High 5 will definitely set this entertainment center apart from one's typical notion of a "bowling alley."  Renderings of the furniture featured leather sofas and club chairs, bistro seating, rustic fixtures and sleek lounge areas for relaxing and dining. The patio decor is modern and sophisticated with a fun pops of color.
In addition to bringing family-oriented fun for all ages, High 5 is bringing new jobs to the Lake Travis area. They plan to hire around 130 employees.
Now that the sun is shining once again, construction has resumed as planned at High 5 this week. They're ready to pour foundation and expect the roof to be up by August. High 5 is hoping to be open by the end of 2015.