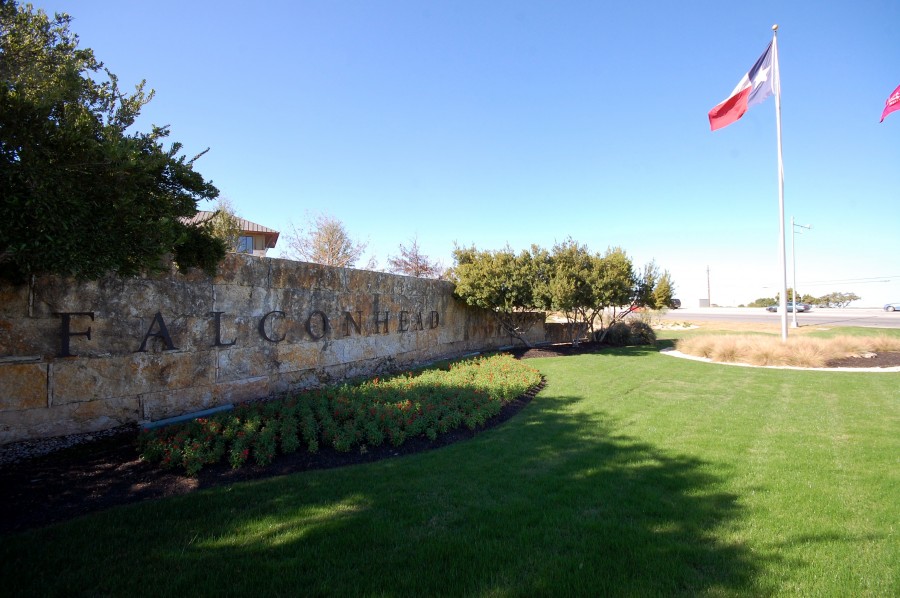 Sitting in the West Hills of Austin between Bee Cave and Lakeway is another one of the top master-planned communities in the Lake Travis area known as Falconhead. Residents also know the neighborhood as Spillman Ranch, but you might recognize the name from the Falconhead Golf Course, expertly designed by PGA Tour Design Architects and one of the top courses in Austin.
Families looking for that special mix of adventure, community and the views of the Texas Hill Country will find Falconhead the perfect choice to settle down. With close proximity to Lake Travis, the Texas Hill Country and Lake Travis ISD schools, picturesque greenbelts and nature trails, you might move here and never want to leave.
History
As the Lake Travis area has experienced tremendous growth over the past decade, so too has the Falconhead community since the neighborhood began development in 2003. Within a 30 minute drive to downtown Austin and a 45 minute drive to the airport, you can savor the peace of the countryside and still enjoy the vigor of city life.
Housing
Families and residents interested in the Falconhead community have several choices of home styles — from Craftsman styled to Mediterranean villas, from garden houses to luxury homes, there is a little something for everyone.
The average home is about 3,600 square feet but there are several other options for home size, features and location — all factors that determine the wide range of prices throughout the neighborhood that begin in the $300's and top out at a million or more.
Restaurants & Shopping
Residents are within a five minute drive to the Hill Country Galleria, which has tasty offerings from Cafe Blue, Chisos Grill, Pei Wei, Verts, Madam Maams, Maudie's and several others that make up a growing list of choices for eating out in the area.
Even more choices become available as you head into Lakeway with several restaurants located at Lakeway Town Center II. It's safe to say there are plenty of choices (maybe too many) all within 5 to 15 minutes of your front door.
When you are in the mood for shopping, the Hill Country Galleria has you covered. Dillard's, Whole Foods, Dick's Sporting Goods, Sunglass Hut, Bath & Body Works and more are all within a five minute drive from home. The H-E-B in Bee Cave is a good option for grocery shopping or you can head north to Lakeway for a trip to Randall's.
Family & Fitness
If you love the outdoors, the rolling hills of West Austin, or an old fashioned game of golf, Falconhead aims to please. With nature trails throughout the community and the Falconhead Golf Course right out your back door, it won't be difficult spending time outside. Community parks keep the kids active and entertained while you enjoy the beautiful sights and hills that the area is best known for.
For the fitness buff, there are several gyms located in the general area including Anytime Fitness and Gold's Gym. Fitness groups such as All About Athlete meet in different locations around the community. The City of Bee Cave Central Park is conveniently located within a three minute drive off Bee Cave Parkway which also has a dog park for special days out with your furry friend.
Schools
Residents of Falconhead are located in Lake Travis ISD. Lake Travis High School, Lake Travis Middle School, Lakeway Elementary and Bee Cave Elementary are all within three miles of the neighborhood.
Additional Information
Falconhead is a very family-oriented neighborhood and you can get the feel for that driving down Falconhead Blvd. and around Spillman Ranch Loop. For outdoorsy types, the Greenway Primitive Trails at Bee Cave in Falconhead West near the entrance on Highway 71 is perfect for a long hike or an adventurous mountain biking trip.
The whole trail is comprised of 4 routes, with 1.5 miles being the longest trail. In total, it is over over 3 miles long, connects to the city of Bee Cave and is both bike and dog friendly.
Major Street Boundaries
Just South of the city of Lakeway, Falconhead's entrance begins at Ranch Road 620 and Falconhead Blvd. Follow the road into the community and it will connect to the Spillman Ranch Loop. To enter from Falconhead West off of Highway 71, take Vail Divide into the development.
Can you live here?
If you're looking for the spot where relaxation meets refined living, look no further. Surrounded by glorious rolling hills that have been sculpted into the Falconhead Golf Course, activity and tranquility just got a little closer. Take in the scenery of the lush greenbelts in the area and admire the landscape of the Texas Hill Country at its finest.
More About Lake Travis Real Estate
Lake Travis Lifestyle spotlights area neighborhoods, covers Lake Travis area history and gives you insight on the local market conditions. If you're looking to call the Lake Travis area home — or just looking for a new place to live — we've got you covered.