In the past five years in Central Texas, the craft beer scene has experienced unexpected growth in a number of ways. More than a dozen breweries have opened within a short driving distance of Lake Travis, giving you a reason to take a picturesque day trip out to the hills.
And with the new change in state law in 2013, breweries are now able to file for the proper permits and licenses to become a brewpub, which essentially allows them to sell their creative concoctions directly to you to consume on site and to take home. This is good news for many breweries that already hosted tasting rooms and tours.
Just on the edge of Hays County, on a small section of unincorporated farmland in Austin sits Jester King Brewery. Brewing out of an old machine shop that was transported to the 220-acre farm that it sits on today, and sharing five of those acres with neighbor Stanley's Farmhouse Pizza, is one of Texas' most creative artisanal brewpubs in the state.
A little more than three years old, this tight-knit collaboration of brewers and beer-lovers alike come together to create some of the most "local" beer in the region.
A Taste Straight from the Texas Hill Country
From the well water that they retrieve from the nearby Trinity Aquifer, to the recycled aged wine barrels they import from local wineries, to the very yeast that naturally saturates the cool country air, every action is taken to ensure that the tastes you're experiencing are unique and straight from their very own backyard in the Hill Country.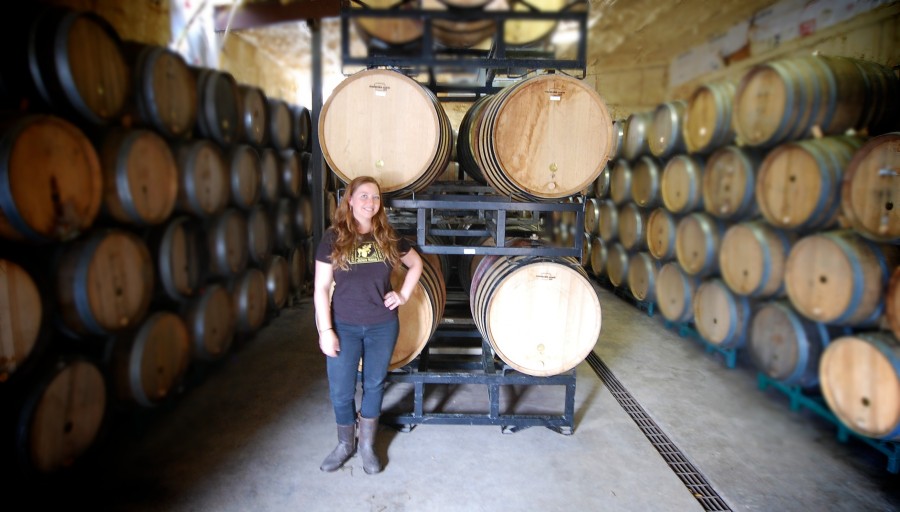 And then there are the barrels. To add in an extra layer of complexity to their beers, most of these brews are aged in recycled American Oak barrels, many of them straight from their own backyard in the Texas Hill Country. Oak barrels still tinged with aged bourbon or mescal can make an interesting way to punch up the flavor profile, and leads to some pretty interesting flavor combinations.
Taking a huge risk by basically founding one of the only old world Farmhouse ale breweries, brothers Jeff Stuffings and Michael Steffing were the two to begin plans behind an artisanal brewery, right in the Texas heartland. Along with beer brewing partner Ron Extract, the official plan was hatched to break ground in 2010.
Since then, Jester King has been creating and collaborating with area artisanal brewers, leading to some very interesting and sometimes challenging taste combinations. Some of these include partnerships with the kombucha brewers behind Buddha's Brew, and even the Salt Lick to create the Salt Lick Pecan Wood Smoked Saison.
The Farmhouse Style of Brewing Beer
Jester King Brewery challenges themselves everyday in the pursuit of these tastes from the Texas Hill Country. Their approach to beer brewing alludes back to a time when beer creation existed on two separate and distinct tracks.
Many beer aficionados will be able to recall the special brewing techniques of European monks who sought to create beer that was easily mass produced and replicable over time. And then there was another group of beer masters that grew alongside this technique; a smaller, independent set of brewers and farmers who had a more hands-on approach and philosophy to their craft.
"We're not trying to make beer as quickly as possible," owner and co-founder Michael Steffing relates of this special way of brewing. "We're trying to keep pushing the boundaries…always experimenting and 'going back in time' using pre-industrialization brewing techniques."
This would later be known as the Farmhouse style of brewing, which distinguished itself from mainstream beer crafting of the time by relying on ones' own land to concoct these artisanal beers and creating them in small batches.
Ingredients were usually from the very land that the beer was brewed upon, making use of the various flora and airborne yeasts that are commonly found in nature, and used to naturally ferment the beer by a process called "spontaneous fermentation".
The methods behind capturing these yeasts and harnessing the various bacteria is another story in and of itself, but the results are exciting, with unique tastes ranging from sour to dry hoppiness steeped in "barnyard" flavors.
"Farmhouse Brewing is to make beer with a sense of place, beer that has a connection to the land and is also expressive of the land and location where the beer is made," owner and co-founder Jeffrey Stuffings goes on to state about his artisan brews.
Creating A Mental Association Between Beer and Land
The reliance on these microorganisms for their uncommon brews can not be overstated, and the team of brewers at Jester King understand this. The subtle and sometimes surprising flavors that can be savored in these beers are a direct reflection of the earthy seasonings of the Texas Hill Country.
One technique that they use for aging their hops consists of taking a burlap and air-exposed bag of their hops out to a nearby horse barn on their property, where it is stored upstairs for months, soaking up the natural airborne yeasts of the countryside in the process. After that, not only have the hops aged in the natural Texas sun, but harbor the colorful tastes of the region, as well.
"What I would love to see people take away when they visit our brewery is a mental association between the beer and land so that when they drink the beer in the future, they are mentally transported back, and really what drives that are the microorganisms," Jeff mentions as we pore over the past collections of ales in the chilled fridge in the tasting room.
Their brews can be sampled at their tasting room at the brewery on weekends, and you can find bottles of their brews at area Spec's Liquor, Whole Foods Market and H-E-B.
Tasting Room
Friday 4-10 pm
Saturday & Sunday noon-6pm
More photos from a day at Jester King Brewery and Stanley's Farmhouse Pizza